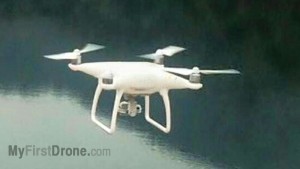 DJI will present to the world the new Phantom 4 tomorrow March 1 at 11:40 am EST. A week ago a teaser video was published on Youtube by the drone manufacturer. Keep reading for what we speculatively know about the new features.
This is the Youtube video teaser showing the new DJI Phantom 4.
The unveil will occur tomorrow. DJI's website shows a count down timer for the big event, wich is happening in New York at 11:40 EST. We are still waiting for the price and model variants, but a rumor talks about something in between the Phantom 3 Pro's 999 price tag and the Inspire 1's 3099$, something close to $1700 USD for the new aircraft. Pre order should also start in the following days.
So here is what we know about it:
Better battery: The new battery compartment is at least twice as big as the one on the Phantom 3, meaning that the battery life will be significantly improved, hopefully with a flight time of at least 40 minutes.
Fast ralease propellers: The propellers will have a new attaching mechanism that will make it easier to set and remove.
Front anti-collision sensor: Its confirmed that the Phantom 4 has 2 sensors located on the front on top of the landing gear that will scan for proximity with objects in front in order to avoid collisions.
Better resistance to crashes: The new bulked body lets part of the camera's gimbal to be located inside the aircraft, plus, the camera is now being hold from both ends.
And here is what we speculate about it:
5Km range: Some days ago, DJI released their Lightbridge 2 technology. While Phantom's 3 Lightbridge lets the remote and the aircraft exchange information and video for up to 2 Km unobstructed, Lightbridge 2 boosts this range to 5 Kilometers!. If indeed Phantom 4 includes DJI new communication technology, it will benefit from this feature.
Better protection to elements: In late Jan, DJI announced the launch of their new E2000 All-weather propulsion system, wich is not only more efficient but that also includes a better sealing. This provides better resistance for elements like rain and dust, with an IP56 certification. Maybe Phantom 4 doesn't benefit directly from this specialized technology but, it may see a bit from it, meaning a better resistance to casual raindrops and moisture.
Thats about it. Phantom 4 promises an even better experience and secure flying that its predecesor the amazing Phantom 3. We are just a few hours for knowing what else this baby bird has to offer.